Monday, December 31, 2007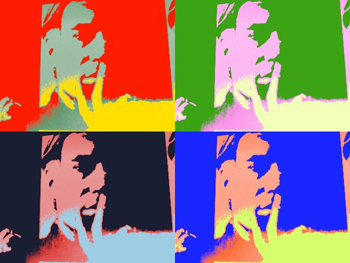 Photo of The Andy Warhol Diaries cover, taken by Eduardo Navas, December, 2007.


It was a great ride these past three years, working off-and-on with Andy's Diary. Not much one can say about the end of life, though. I prefer to close my final entry with the following NY Times article about the investigation of Andy's unfortunate death. I'll miss working on the diaries. May Andy rest in peace.

No Criminal Charges Brought by Inquiry On Death of Warhol

By KIRK JOHNSON
Published: August 1, 1987

LEAD: An investigation into the death of Andy Warhol has found ''insufficient evidence'' to bring criminal charges over Mr. Warhol's medical care, the Manhattan District Attorney's office said yesterday.

An investigation into the death of Andy Warhol has found ''insufficient evidence'' to bring criminal charges over Mr. Warhol's medical care, the Manhattan District Attorney's office said yesterday.

The office said that because of poor medical records kept in the hours before Mr. Warhol's death on Feb. 22 at New York Hospital-Cornell Medical Center and because of uncertainty about the effects of treatment he underwent before entering the hospital, the exact cause of the cardiac arrhythmia, or heart rhythm irregularity, that killed him could not be determined.

And because the ultimate cause of death could not be established, prosecutors said, the chain of reasoning that could lead to criminal charges was incomplete. Thus, the investigation did not finally clear up the uncertainties surrounding Mr. Warhol's death. They are still being examined in separate inquiries by state health officials and by Mr. Warhol's attorneys.

''In order to find criminal liability we would have to disprove that death was from natural causes; that was almost impossible in this case,'' said John W. Fried, the chief of the trial division at the prosecutor's office and the head of the investigative team that looked into Mr. Warhol's death.

Mr. Warhol, an artist of many mediums who was known for his paint-on-silk-screen renderings of celebrities, died a day after having surgery to remove an inflamed gallbladder.

The criminal investigation was prompted in April, after the city's Chief Medical Examiner, Dr. Elliot M. Gross, said the circumstances and questions surrounding Mr. Warhol's death warranted further study. The findings announced yesterday ended that investigation and said the case would not be presented to a grand jury unless ''any new and significant evidence is discovered.'' The District Attorney's office announced its findings in a letter to Dr. Gross. Malpractice Issue Not Addressed

Mr. Fried stressed in an interview, however, that the investigation focused solely on whether Mr. Warhol's death was a result of criminal medical wrongdoing, and did not address the overall quality of treatment that Mr. Warhol was given or whether medical malpractice may have contributed to Mr. Warhol's death. He was believed to be 58 years old at the time, although his date of birth is in dispute.

The New York State Health Department, in a report in April, was sharply critical of the quality of care Mr. Warhol was given from the time he was he was admitted to New York Hospital on Feb. 20 until his death two days later. The department called Mr. Warhol's treatment ''inadequate'' and said it had found scores of ''deficiencies,'' including the failure to do proper tests before surgery and the failure to keep his medical chart accurately.

The hospital, which defended the quality of its care after that report and disputed the Health Department study, said through a spokeswoman yesterday that the findings by the prosecutor's office were a vindication. 'Entirely Appropriate' Care

''While we never believed that there was any basis for criminal charges, we cooperated fully with the District Attorney's office in its investigation,'' said the spokeswoman, Myrna Manners. ''We are gratified that the D.A. has confirmed our view that the medical care provided to Mr. Warhol was entirely appropriate.''

The attorney for Mr. Warhol's estate, Edward W. Hayes, said he would not dispute the District Attorney's findings. But he added that ''a very intensive'' private investigation was still under way covering ''the entire range of his medical treatment'' to determine whether the hospital or the health care workers may be liable under the lower standards of civil law.

A spokesman for the Health Department said the state's case against the hospital, which could result in fines or disciplinary action against hospital employees, was also still open and that discussions with the hospital were continuing. The spokesman, Peter Slocum, said that the department had not withdrawn any of its allegations and that the hospital was scheduled to make another reply to them next week. Layers of Uncertainty

According to the letter to Dr. Gross from the Manhattan District Attorney, Robert M. Morgenthau, the inability to determine the underlying cause of Mr. Warhol's death was a result of several layers of uncertainty and ambiguity in the medical treatment that Mr. Warhol was given.

Specifically, Mr. Morgenthau said that although Mr. Warhol's treatment by a chiropractor before entering the hospital could possibly have aggravated his gallbladder inflammation, the condition had already been diagnosed by a physician before that treatment.

In addition, the letter said, even if the chiropractor's treatment did aggravate the condition, ''it cannot be proven with any certainty that the chiropractor injured Mr. Warhol's gallbladder to the extent that surgery became neccessary, nor is there any evidence that the manipulation was performed either intentionally, recklessly or with with criminal negligence.'' Role of Private Nurse

The incomplete medical records, according to the letter, made it difficult to track Mr. Warhol's condition through the night after his surgery until his death in the early morning of Feb. 22. Those records, according to reports by the Health Department and prosecutor's office, were the responsibility of a private nurse who has since been barred by New York Hospital from treating any patients at the institution. The nurse's attorney has said that the nurse has been made a scapegoat by the hospital.

''The notes, to the extent that they exist, do not reveal evidence of criminal liability,'' Mr. Morgenthau said. Morever, he said, ''it is not now possible to determine whether more careful and vigilant nursing care would have detected the fatal arrhythmia in time to have prevented Warhol's death because his heart rhythm was not being electronically monitored when the fatal arrhythmia occurred.''

meta-dandy
...


---
Sunday, December 30, 2007

I cannot help but to relate Gelsey Kirkland's book title Dancing on My Grave with Andy's health condition. Hackett as editor must have thought about this when she included the entry. But how can a bio about a ballet dancer be trashy? Am I missing something here? Maybe if Andy had thought of the book's content as news, he would have enjoyed it more. Ballet Talk takes care of business:


Where Did the Gossip Policy Go?

It's still there; it's now called "news." The board has always defined gossip as "unofficial news." We thought if we called it "gossip," no one would want to be one and wouldn't post any. Unfortunately, we found that people interpreted the term as it is generally used, and we had too many of the following conversations:

Ballet Talk: We've deleted/edited your post because it violated the gossip policy.
Poster: I would never gossip!!!! Stop calling me a liar!!!! She told me herself at Safeway!!!!

Our point was never to doubt the accuracy of the post or the good intentions of the poster. It was always whether the news was official, even if everyone, including the theater cat, knew it before it made the press. We've decided to use the term "news" to avoid contentiousness over the term "gossip."

Why Is There a News Policy in The First Place, When We All Want to Know "The Real Story?"

The news (formerly "gossip") policy is to protect everyone involved. Ballet professionals are people: they conduct careers, change their minds, and adjust to change at their own pace, and the reasons for their decisions don't always condense into convenient 10-second sound bites. They have good and bad days, like to spend time with their family and friends without being interrupted, and, generally prefer to drink their morning mocha latte without finding a five-page discussion on the Internet about whether they should have left off the whipped cream.

But, you may ask, doesn't it mean that the bad guys get away with murder? Don't I, as a donor/subscriber/volunteer/fan have the right to know if the Artistic Director locks up her husband in the basement? The answer is, maybe you do, but not from here.

And Andy's speculation on antiques reminds me of Antique Road Show. I can't say that I'm in love with the show, but it certainly is interesting to see what the producers decide to feature. I wonder if there's plenty of stuff from the movie lots, as Andy also speculates, that never makes it in front of the cameras. The Antique Road people would just tell the owner, "this is a movie prop--worthless!" But nobody wants to hear that on Antique Road Show. I mean, they only show you the good stuff. It's a show for pack rats. And the antique experts appear so knowledgeable, as though they just sat down with the object owner. But it's obviously staged.

meta-dandy
...


---
Saturday, December 29, 2007

I wonder if Andy would have surfed the web when he stayed home, instead of just watching Agnes of God three times. He probably would have done both. Statistics show that people actually watch TV while surfing, or surfing while watching TV; how you put it depends on which industry you work for. Here's a turn of the century article, from Cable World, on how the industry is trying to cope with the emergence of online culture:

Is Web surfing taking time away from TV watching?

That's the $64,000 question. According to a July 1999 Jupiter Communications Inc. survey, 42% of online users said they watched less television since they began using the Internet. That's a slight reduction from 1998, when Jupiter found 45% of online users said the Web cannibalized some of their TV time.

Multi-tasking

The either/or scenario of Web and TV usage simplifies what's truly happening in American homes, according to other studies. An increasing number of consumers are surfing the Internet and watching TV at the same time. That suggests that even though the TV and computer haven't converged, consumer behavior is converging. In Jupiter's 1999 survey, 18% said they multi-tasked "often," while another 35% said they multi-tasked "sometimes."

Having read Andy's diaries, I would say that he would have frequented D-listed and Perez Hilton, although he would have liked Perez in the beginning but changed his mind as soon as Perez turned popular. It's not just as much fun anymore, and for a while Perez just posted about Castro's possible death. Lots of pictures with handwritten statements on top. Tacky. A tabloid blogger must have class as well.

meta-dandy
...


---
Friday, December 28, 2007

Being dependent on Andy throwing me a bone, my day was also short. Although I think Andy was already dealing with his Gallbladder:

Warhol died suddenly in 1987, following a routine gallbladder operation. Warhol's diary, from 1976 to 1987, was published posthumously in 1989.

meta-dandy
...


---
Thursday, December 27, 2007

Funny that Andy called Judd Nelson odd. When I saw him in St. Elmo's Fire all I could think about was his nostrils. They're huge, really wide. I also remember him in The Breakfast Club.

I liked those movies, but not anymore. I never got to see the films at the theatre. I lived in Hollywood then--that's were I grew up. I remember I checked out both of the movies at a small neighborhood market run by Indus. They had movies in the back, not too many--just whatever they could get. This is before Blockbuster and The Wherehouse. I could not drive then because I was too young, so I would just get a bunch of movies there. I rented The Terminator there. I remember hesitating to rent it because it flopped at the theatre. I thought, "That movie must suck. It hardly stayed in theatres. Should I waste my dollar?" Yeah, that's how much rental was then. But the movie was great. I loved it. It had everything that was interesting to me then: Time travel, a robot that looked like a human (I read Asimov's Sci Fi Novels on Robots then), and I got a love (soft-sex) scene, something for teenage curiosity. Now I think of the movie as a carefully constructed work around displaced cold war anxiety, supported by an existentialist love story thrown in to apeace our discomfort with an uncertain future.

I did find it odd that, when I rented videos there, I would look at the video cover but once I took it to the counter, the actual tape would be in a plastic case. I wanted to take the image cover with me. It's the fetish of the image ingrained early on in me, I guess. I wish I liked The Breakfast Club and St. Elmo's still; but now when I see them all I can do is consider their relevance to the eighties and the popular trends of the time. Tainted by Academia, I've been. I liked the music, though. That I haven't outgrown. Simple Minds is still in my playlist: Don't you forget about me, check the lyrics:

Hey, hey, hey ,hey
Ohhh...

Won't you come see about me?
I'll be alone, dancing you know it baby

Tell me your troubles and doubts
Giving me everything inside and out and
Love's strange so real in the dark
Think of the tender things that we were working on

Slow change may pull us apart
When the light gets into your heart, baby

Don't You Forget About Me
Don't Don't Don't Don't
Don't You Forget About Me

Will you stand above me?
Look my way, never love me
Rain keeps falling, rain keeps falling
Down, down, down

Will you recognise me?
Call my name or walk on by
Rain keeps falling, rain keeps falling
Down, down, down, down

Hey, hey, hey, hey
Ohhhh.....

Don't you try to pretend
It's my feeling we'll win in the end
I won't harm you or touch your defenses
Vanity and security

Don't you forget about me
I'll be alone, dancing you know it baby
Going to take you apart
I'll put us back together at heart, baby

Don't You Forget About Me
Don't Don't Don't Don't
Don't You Forget About Me

As you walk on by
Will you call my name?
As you walk on by
Will you call my name?
When you walk away

Or will you walk away?
Will you walk on by?
Come on - call my name
Will you all my name?

I say :
La la la...

meta-dandy
...


---
Wednesday, December 26, 2007

This is what was mentioned in the New York Times a few months after Andy's death, on May 28, 1987:

Discussions are also under way with Ray Charles for the development of a festival program devoted to American vocal music. Mr. Martins said he and Andy Warhol had discussed the creation of a front curtain for the festival just before the artist's death, and that he was in negotiation with Mr. Warhol's estate to adapt the artist's preliminary work for the project.

And there's a mention of Andy in the ballet's premiere, also in the New York Times, on May 8, 1988:

Toward the close, there is a slide projection of dollar signs by Andy Warhol on a bas-relief of skyscrapers by the set designer Alain Vaes. The ballet's four couples have collapsed at this point in what seems an ode to Mammon. This cynical punch line is out of key with the engaging straightforward nature of the rest of the ballet.

I couldn't find anything about the curtain's completion. It would've been, perhaps, Andy's final piece? Or not? Is the Diary his final piece? Or Hackett's vision of him? Would Andy's diary be like Kubrick's work on AI which was finished by Spielberg?

This settles it: The Andy Warhol Diaries is a posthumous work by the American artist Andy Warhol (1928-1987) and was edited by his secretary Pat Hackett. Warner Books first published it in 1989 with an introduction by Hackett.

meta-dandy
...


---
Tuesday, December 25, 2007

Christmas day, today. I looked up Dolly Fox, and I had no idea who she was. I still don't. But she did date Charlie Sheen. I learned this at Who's Dated Who? It's addictive. I clicked on Sheen's link under Fox and then I got his list of flings and relationships. The man's busy. I saw a Heidi Fleiss link, so I clicked on that one. And she doesn't have that many celebrities in her list. Although, they're all listed as "Relationships," except for Hugh Grant. And he does not have that many women on his list. Just eight of them. Elizabeth Hurley is on his list, so I clicked on her link. President Clinton is listed to have had an encounter with her--when did that happen? It says 2000. I clicked on him, and he's got quite a few women listed, including Sharon Stone--so I clicked on her, and she's been busy on both sides. She's had encounters with Helen Degeneres and Halle Berry. Helen sticks to the ladies, only four. Halle's dated quite a few men, including Spike Lee, so I clicked on him. And Spike stops at four. I decided to look for other people and I looked for one of my favorite ladies, Madonna. She's also been busy at both ends of the spectrum. And then I decided to look for, my not so favorite stud, Tom Cruise. But the man is a saint, apparently... Not really, I found him through Katie Holmes. And he's got all ladies listed. Quite a disappointment. I guess the Who's Dated Who site would probably get sued otherwise. And I had to check on Clooney.

meta-dandy
...


---